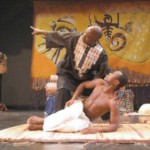 A four-man show for children and adventurous people of all ages. In West Africa, a young boy dreams of a beautiful Kaleta -a Halloween-like festival in which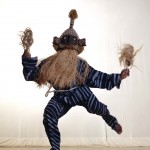 children dress as lions, zebras, and other animals and go door to door to entertain their neighbors.
The boy soon enlists the performers to help him bring his dream to life in this dazzling mix of dancing, storytelling, drumming, singing, and colorful masks and costumes.
Along the way, we meet the colorful trickster spirit "voudouavonou," laugh at the story of "How spider got a big butt," sing along with the talking drum to the African version of "Mary had a little   goat," take part in a festive dance of the Kaleta, and much more!
Kaleta was originally commissioned by Seattle International Children's Festival in 2003, and went on to tour in 2004 at the Kennedy Center in Washington DC., the Philadelphia International Children's Festival, the Seattle Public Library, King County Library System and performance venues in Miami and Long Island.
Contact:
Gansango Music and Dance Company. http://gansango.com/contact-us/
 Won-Ldy Paye. http://www.wonldypaye.com/